If you are a vendor who wants to sell your products to users in Japan, please contact us. Our sales team will be happy to help you!
Inquiry Form
What we can offer you
Example : Would you like to list your products on UNIPOS?
You can promote your products to Japanese users in the following ways.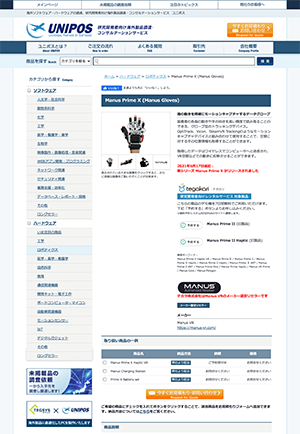 We will create a detailed page introducing
your product in Japanese.
・Product name, outline, image, and vendor name, etc.
・More information, such as licensing options and product specifications
・Posting of materials such as videos and catalogs
・Display in the product list page by R&D category
Please see detailed page of the actual product. (Jump to UNIPOS web site)
After a user in Japan contact us, we will request you a quote in English.We will act as your contact person for sales in Japan. If you are interested in expanding your business in Japan, please take this opportunity to contact us.
notice :
・There is no charge for posting on UNIPOS product pages.
・The listed products are limited to products for research and development.
・There is no guarantee that all the products you apply for will be posted on the website. We will review your application before publishing it.
・The time of application to the time when you will be notified of the possibility of publication.(It will take about 2 weeks)
Other Example (Benefits) :
・We will act as an intermediary between your company and the end-user to handle payment, customs clearance, delivery, support, etc.
・Priority placement of your company's advertisement on our website. (Option)
Other options are also available to meet your needs. Please contact us for details.
About the field of products handled by UNIPOS
Our main customers are researchers and engineers in universities and companies.Please see the web page that listed up some of our customers.
Our Clients
What kind of products are required by Japanese researchers?
The keyword is ...
As one example, in Japan, research towards technological innovation is being carried out based on the concept called "Society 5.0" . Society 5.0 is part of the process for achieving the "Japan's SDGs (Sustainable Development Goals) model ". Its core technologies and fields of application are as follows.
BioSensor (Medical) / Autonomous driving (Transportation) / Quadruped robot (Disaster prevention) / Smart agricultural
internet of things - IoT / Remote communication / LiDAR / etc.
Please refer to this page for an introduction to Society 5.0.
Society 5.0 Accelerates R&D in Japan
In addition, we also handle products in such fields for Japanese researchers.
If you handle any of these products, please contact us!
Let's work together to accelerate the research field in Japan. (it's our corporate mission!)
Inquiry Form